Survivor Testimony Videos
We help to create atomic bomb survivor testimony videos.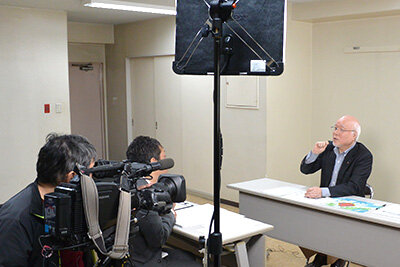 In order to convey the raw experience of the atomic bombing to future generations, the Memorial Hall records video footage of hibakusha from inside and outside of Japan recounting their experience of the bombing. This footage is then preserved and displayed inside and outside of the Memorial Hall.
At current, we have video testimony footage from hibakusha living in Japan, the US, Canada, Australia, Brazil, Mexico, Argentina, South Korea, and Taiwan.
The Hiroshima Peace Memorial Museum is in charge of video testimony from hibakusha currently living living in Hiroshima Prefecture who suffered the bombing in Hiroshima, whereas the Nagasaki Peace Memorial Hall for the Atomic Bomb Victims is in charge of video testimony from hibakusha currently residing in Kyushu and Okinawa. Hibakusha residing in all other regions fall under the jurisdiction of the Memorial Hall.
Video testimonies are available for viewing at the Memorial Hall and online on the Global Network website.
We are always looking for the opportunity to speak with hibakusha about their lives before the bombing, experiences during the bombing, and their life afterwards, so that we can convey the experience to future generations. If you would like to contribute to our video testimony project, please contact the Memorial Hall.