Atomic Bomb Memoir Readings
Experience History: Join Our Atomic Bomb Memoir Readings
The Memorial Hall holds public reading sessions of atomic bomb memoirs and poetry to share the memories and the feelings of the hibakusha, as well as to carry their legacy to the next generation. Presenters are all volunteers who are registered with the Memorial Hall and include freelance announcers, actors, as well as experienced presenters.
Typical Reading Session Program
Short introduction of the damages wrought by the atomic bombing (DVD)
Readings of two memoirs and four poems
Readings by participants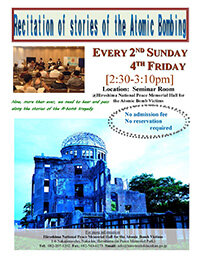 Regular Public Reading Sessions
Eligibility
Open to the public, no reservation/application necessary
Venue
Seminar Room 3, Basement (Upper Floor)
Date and Time
Japanese Session
Third Sunday of the Month
Morning session: 11-11:40 am
Afternoon session: 2:30-3:10 pm
English Session
Sessions cancelled until further notice; more information once sessions resume.
Application Process for Reading Sessions for Schools/Organizations
Application/Timing
Please contact the Memorial Hall via our Questions, Comments, Requests page at least two weeks before your desired session date.
Eligibility
Schools and organizations visiting Peace Memorial Park for school trips or peace studies
Venue
The Memorial Hall
Seminar Rooms 1, 2 (capacity; 40), Seminar Room 3 (capacity; 20)
The Hiroshima Peace Memorial Museum (East Wing Basement 1)
Museum Memorial Hall (capacity; 156), Conference Room 1 (capacity; 75), Conference Room 2(capacity; 50)
Note: The Memorial Hall will reserve your venue depending on the number of participants; however, we may not be able to comply with your desired date if we are booked to capacity. We ask for your understanding in this matter.
Other Venues
(a)

Hotel or ryokan where group is staying

(b)

Schools or Community Halls in Hiroshima City
While reading sessions are offered free of charge, we do ask that you prepare the following:
Three chairs for the volunteer presenters
A projector and screen for the DVD presentation
Three microphones and 3 microphone stands (if 50 or more people will be in attendance)
The Memorial Hall will prepare (deliver) text copies of the reading session text for all who will be attending.