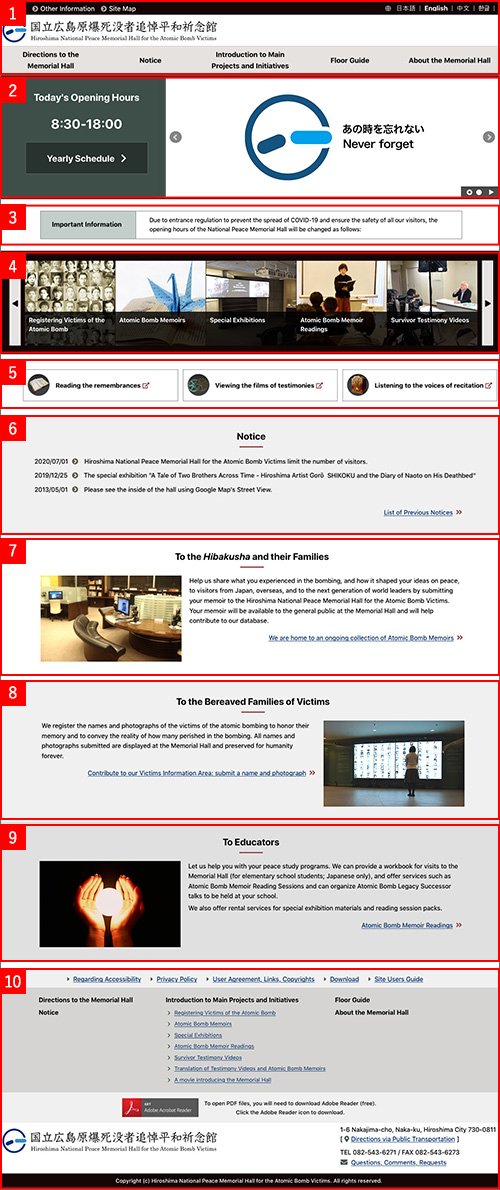 1) Header
This menu will appear on every page.
2) Today's Opening Hours/Slideshow
On the left, you'll find today's opening hours. In our slideshow, you'll find images of current/upcoming events. Be sure to watch through until the end!
3) Important Information
Here you'll find emergency information, temporarily closure information, and more. Note that the Important Information bar will only be displayed if necessary; it will not normally be shown.
4) Introduction to Main Projects and Initiatives
This section provides an introduction to the main projects and initiatives of the Memorial Hall.
5) Read Atomic Bomb Memoirs/Watch Testimonies/Listen to Readings
Here you can read atomic bomb memoirs, watch video testimonies, and listen to readings on file at the Memorial Hall (links to the National Peace Memorial Halls for the Atomic Bomb Victims in Hiroshima and Nagasaki (Global Network)).
6) Notices
Lists the three most-recent notices. To see previous notices, click the List of Previous Notices.
7) To the Hibakusha and their Families
The Memorial Hall collects atomic bomb memoirs; all memoirs will be stored and made available to the general public at our Library. Help us to share your experience; submit your memoir today.
8) To the Bereaved Families of Victims
We register the names and photographs of the victims of the atomic bombing; all names and photographs submitted are preserved and displayed at the Memorial Hall. We are always looking for new submissions; send the name and photo of your loved one today.
9) To Educators
Let us help you with your peace study programs at schools or other organizations. Here you can find a peace studies work book geared towards students at the elementary school level (currently offered in Japanese only), information on atomic bomb memoir readings, and more. Information here is also useful as background information before your visit.
10) Footer
Just like the header, the footer is also displayed on every page. If you have any questions, comments, or requests for the Memorial Hall, please use the form located on the Questions, Comments, Requests page on the bottom right.
*Note: our site was built so that you do not need JavaScript to get information.
We do not have a smartphone version of our site; this site will be automatically displayed on your smartphone at the appropriate size.