Registering Victims of the Atomic Bomb
Contribute to our Victims Information Area: submit a name and photograph.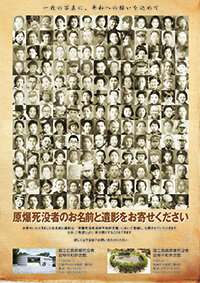 The Hiroshima National Peace Memorial Hall for the Atomic Bomb Victims registers the names and photographs of victims of the atomic bombing to mourn their passing and to convey the reality of the tremendous loss of life that occurred on August 6, 1945. All names and photographs contributed will be displayed at the Memorial Hall and preserved indefinitely.
1) Eligibility
Victims who fulfil the following criteria are eligible for submission:
Those who were directly exposed to the bombings in Hiroshima or Nagasaki on August 6 and 9, 1945, respectively.
Those who were exposed to radiation upon entering Hiroshima or Nagasaki within two weeks of the bombing.
Those who were affected by radiation as a result of involvement in rescue efforts.
Those who were in utero of women who fall under (1), (2), or (3).
Note: date of death is irrelevant; Atomic Bomb Survivor Certificate not necessary.
2) Application Process
In principle, only the bereaved families of deceased victims are allowed to apply.
To those applying who are not bereaved family members (friends, acquaintances, etc), please consult with the Memorial Hall before applying.
One application form (in the form of an envelope) is needed for each victim.
Applications can be found in the Atomic Bomb Survivor's Relief Department of both Hiroshima City Hall and Nagasaki City Hall, as well as in the Hiroshima and Nagasaki Peace Memorial Halls. It is also possible to mail the application forms to you, if necessary.
Send or bring your application form (complete with portrait photograph) to the Memorial Hall.
There are no application deadlines.
Applications will be accepted at either Memorial Hall regardless of where the victim was during the bombing or where the applicant lives.
3) Portrait Photographs
Photographs are limited to one. If you do not have a photograph, you can also register their name only.
There are no specifications for photos in regards to size, color (black and white or color acceptable), or when they were taken.
All submitted photographs will be preserved at the Memorial Hall indefinitely.
If you would like your photograph returned, the Memorial Hall will make a copy and return the original to you.
If you do not have a photograph, we will also accept portrait art.
We will also accept photographs of the victim with their family.
4) Display Method
All submitted names and photographs will be displayed at both the Hiroshima and Nagasaki Memorial Halls. To convey the reality of the tremendous loss of life as result of the bombing, the names and photos of the victims are displayed throughout the day on our Large Screen Panels, or you can search using our interactive search panel.
Should you wish, we can also take the names and photographs off display.